Hardcover
Pages: 409 pages
Published: September 18th 2012 by Scholastic Press
ISBN: 0545424925 (ISBN13:

9780545424929

)
Series: Raven Cycle #1
Goodreads Synopsis:
"There are only two reasons a non-seer would see a spirit on St. Mark's Eve," Neeve said. "Either you're his true love . . . or you killed him."

It is freezing in the churchyard, even before the dead arrive.

Every year, Blue Sargent stands next to her clairvoyant mother as the soon-to-be dead walk past. Blue herself never sees them—not until this year, when a boy emerges from the dark and speaks directly to her.

His name is Gansey, and Blue soon discovers that he is a rich student at Aglionby, the local private school. Blue has a policy of staying away from Aglionby boys. Known as Raven Boys, they can only mean trouble.

But Blue is drawn to Gansey, in a way she can't entirely explain. He has it all—family money, good looks, devoted friends—but he's looking for much more than that. He is on a quest that has encompassed three other Raven Boys: Adam, the scholarship student who resents all the privilege around him; Ronan, the fierce soul who ranges from anger to despair; and Noah, the taciturn watcher of the four, who notices many things but says very little.

For as long as she can remember, Blue has been warned that she will cause her true love to die. She never thought this would be a problem. But now, as her life becomes caught up in the strange and sinister world of the Raven Boys, she's not so sure anymore.
My Thoughts:
Ahhh. What a book. What an epic, epic, book. Wait - let me correct myself. The Raven Boys wasn't exactly a book for me. It was a journey. A mesmerising, spellbinding journey. Hats off to the author for writing such a beautiful tale. Let's all give Ms Stiefvater a standing ovation, shall we?
Perfect.
The Raven Boys starts with a prologue that sets the stage in a surreal, dark-faced, atmosphere, and it meets the end of the first installment in a totally gripping manner with a totally gripping statement by one of the characters. A statement that promises an equally - if not more - exciting sequel.
I adore how Maggie Stievater writes. The style, the narration, the humour (I love the sarcasm in Blue's narration), the way Ms Stiefvater brings out a particular mood in the setting - sometimes anger, sometimes fear, horror, suspense - all aspects of the written word are exquisitely executed. Wow. Alliteration. :s
Now back to the exquisite execution. The story is told from the PoV of various characters including Blue and Gansey. Again, the author nails the emotions of the characters and the mood of the scene so brilliantly that the reader feels the same emotions, the same mood, in full swing. It's as if they're in the story; atleast, that's what I felt when I was reading The Raven Boys. I felt Adam's resentment of his less-than-perfect-life. I felt Gansey's determination to find the burial location of Owen Glendower. I felt Blue's shock/horror when she realised that she could see Gansey in the file of dead people in the churchyard on St. Eve's Day. She herself never saw any of the soon-to-be dead folks until then, and this meant that either Gansey was her true love or that she would kill him.
Did I hear some of you scoff at the phrase "true love"? I guess you're probably thinking that The Raven Boys unfolds itself into a sappy, sappy love story where Blue and Gansey decide that they can't live without eachother and spend their time wrapped up in eachother's arms?
You're WRONG.
The Raven Boys is far from a love-story. It's more of a thrilling adventure. A supernatural excursion. (What's up with me and ex-words today?) The suspense, without doubt, is really nicely-paced and excellently carried out, so much so that even Professor Dumbledore approves.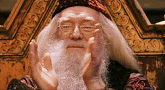 "What magic! Simply outstanding!"
Maggie Stiefvater has refused to waste any of her characters. Each of them is three-dimensional; they're all layered and well-developed, and many of them have hidden motives. We discover that there's more to Neeve, more to Noah, and more to many of the other characters than meets the eye. So much is revealed in the ascent to the climax, which itself is superb. For those who haven't read The Raven Boys yet, you'll understand what I mean when you read the book.
The only other book of Ms Stiefvater that I've read is The Scorpio Races - another gem. I recommend The Raven Boys to everyone who loves a good bit of action, supernatural stuff, suspense, and ofcourse, beautiful writing.